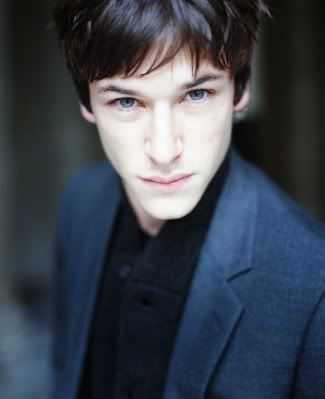 BASIC STATISTICS
Full Name:

Gabriel Mortaine


Known As:

Gabriel, Gabe, and many other names that he's given out


Nicknames:

--



Current Age:

921


Date of Birth:

November 13, 1075


Deathday:

July 2, 1099


Age Before Death:

24


Place of Birth:

England


Place of Residence:

N/A - Gabriel must sleep in a new place every night



Clan:

Ramanga


Position in Clan:

Gabriel travels the Earth trying to enforce the beliefs of the Ramanga, as well as lending the aid of his supernatural powers to others in a form of trade.


Current Ties to Clan:

Gabriel doesn't really have any ties to other members of his clan anymore, as is fairly normal within the Ramanga, but he upholds their traditions and beliefs.


Sire:

Baas Bohlale


Sire's Position in Clan:

He is an ancient member of the clan who has spent his unlife siring new fledglings and helping them to continue on the Ramanga traditions.


Current Ties to Sire:

Baas is a strong mentor/father-like figure to Gabriel, however, they have had little contact since around Gabriel's siring.



Race:

Vampire (Muggle)


Heritage:

English/French

PHYSICAL APPEARANCE
Before becoming a vampire, Gabriel was a lean, muscular young man. He had the look of a hard-working man living in harsh times. His eyes were a mild-blue color against tanned skin that came with long days in the sun, and brown hair that was usually unkempt at a medium length. After years of being a vampire, Gabriel's skin has paled to a near-white tone. His blue eyes seem more vibrant and crystalline, however, against his pale skin, but his once muscular body has thinned down, partly due to the fact that he hasn't consumed any solid food in centuries and partly due to Gabriel having been rather malnourished at the time of his siring. Aside from the basic appearance one notices, Gabriel has a very wise and experienced look about him. He appears generally young, but he has an air of intelligence about him. A close look depicts that Gabriel knows a lot and has seen even more.

PERSONALITY, TRAITS & QUIRKS
When he was mortal, Gabriel was a fairly average young man. He wasn't entirely outgoing, although not too shy, either. He found peace in a hard-day's work and never took anything for granted, as he'd had troubles staying alive day-to-day all his life.

Instead of aging mentally like someone normally would, Gabriel's personality seemed to stay about the same as it was before he was sired. He's grown smarter and wiser through his experiences and travels, and as he's aged on and on he has started to become slightly less emotional. However, the trickster attitude of his clan has worn off on him a bit, and he enjoys bargaining with mortals for his services and swindling just like any Ramanga vampire, as well as good joke here and there. Gabriel's age can really show at times, however, depending mainly on his company and situation, meaning that he can come off as rather quiet and collected if necessary.

HISTORY & PAST
[list]
November 13, 1075. A baby boy is born is born to a poor family in medieval England. These were harsh times, and the baby's poor parents couldn't really afford a child. Nevertheless, they decided they would do their best, and named the young boy Gabriel Mortaine.
The family lived in an old musky shack within the large city. As stated before, they had very little money, and lived on whatever they could get. Handouts from more fortunate people, the occasional loaf of bread that could be bought when they had saved enough money, this was all they had to live on. In Gabriel's opinion, this clearly wasn't enough, and he thought this more and more so as he grew older. He saw all the other families, throwing their money about and spending it on whatever they pleased. It wasn't long before Gabriel was greatly jealous of them. He wanted money and happiness – what they had and he didn't.
Gabriel's family was very religious, following the Christian faith, and Gabriel knew very well what he should and shouldn't do. However, this didn't stop the young boy from one day stealing some food from a merchant's stall down the street. He swiped it when no one was looking and then rushed home to share with his parents. When they asked where he'd gotten the food, Gabriel lied, saying that he'd been given the food for helping an old man cut some wood. His parents believed him, and so they had food for a night.
Young Gabriel didn't plan on committing any crimes again, but it didn't help that his family was still having trouble making ends meet. Both parents were working on a farm at the time, but the weather wasn't granting them any favors, as if their jobs weren't already low-paying enough. One day Gabriel planned on heading back to the merchant's stall and stealing some more bread. Last time had been easy enough, and Gabriel was sure he could get away with it this time easily - so easily, in fact, that he should take even more than just one small loaf of bread. He would take a couple, enough for a day or so. Even though knew it was wrong, he decided it was either this or his family could starve. So he set off again, waiting around the merchant's stall until a chance showed up. When it did, Gabriel hurriedly made his way over and reached for as much bread as he could grab when the merchant had his back to him. But Gabriel wasn't so sneaky this time around; the merchant turned just in time to see Gabriel making off with his merchandise, and grabbed hold of the young boy. Gabriel tried to escape, but it was no use. The merchant took his bread back, and tugged the child along back to his parents.
When they arrived at Gabriel's home, the merchant told Gabriel's parents about everything that had happened, and they'd even come to the conclusion that Gabriel had stolen the loaf of bread previously. The merchant eventually took back to his stall, leaving Gabriel with two angry parents. His parents explained thoroughly that what he'd done was wrong, and it was not the type of lifestyle their family should be living. They informed Gabriel that if he continued with his ways of stealing and lying, he would end up going to Hell. True, he hadn't committed anything obscene and his intentions were always good, and at the time, Gabriel didn't take all this too seriously, but the point remained and, as the boy grew older, his views would change.
At an older age, Gabriel began to consider more deeply what his religion meant and what other wrong deeds he had committed. He began studying the Christian faith devotedly and more seriously than he had as a child, soon coming to the realization that he'd been sinning all his life. His crimes as a child were rather insignificant, but no man was free of sin and that didn't exclude Gabriel. After all that, Gabriel was sure he was going to end up in Hell. If only there was a way to escape this horrible fate.
Years passed, and while Gabriel's mind still lingered on what he figured to be his imminent fate, almost to a point of obsession at times, he moved on in life, becoming a man and beginning to make a living. It was in March of 1095 when God sent a gift from above, giving Gabriel a chance to escape Hell. Ambassadors sent by the Byzantine Emperor called for help to defend their empire against the Turks. Later that year, the Pope himself called all Christians to join the war against the Turks, but more importantly, he promised all who died during the journey immediate remission of their sins. Gabriel didn't have much in his home these days. His parents were long dead and he hadn't even considered starting a family of his own yet, so he used all his saved money to set off to France, where he would begin the greatest journey of his life.
Once he reached France, Gabriel was immediately sent off with the Crusader armies towards Constantinople and then on to Anatolia where they laid siege to Nicaea. This was Gabriel's first real taste of battle. He had done a small amount of training when he had time, but he was no real soldier. However, Gabriel survived, and the Crusader army continued on in their battle against the Turks.
Although the armies were running low on supplies, through some gift of God, they managed to continue their journey even further until they began the siege of Antioch. It lasted many months, until June of 1098, but the Crusaders pulled through yet again, laying claim to the city. It was here that they would stay for the night.
As darkness approached, the armies began to settle in for the night. While some men turned in for the evening, Gabriel wandered the city. He had always been interested in seeing new things; unfortunately it would have to be under these circumstances. It was while he was wandering the city that Gabriel ran into a pair of shady-looking merchants. They took notice of each other, but the merchants made it clear that he was to remove any crosses or other religious items (it was not hard to assume that an obvious Crusader may carry such items) from his person before they could do business. Gabriel was unsure of what to think but only more curious because of it, so he obeyed, dropping his silver cross necklace into the sand.
Now that they apparently felt safe, the two men declared that they were traveling merchants. They didn't have much, except for some old fashioned mixtures and potions. As the night went on, the strange merchants settled in and began telling stories to all that would listen. Their stories lasted for hours, and the Gabriel found himself enjoying the merchants' company. At one point, Gabriel inquired how it was that these men could have so many great stories. They explained that, through a great gift, they were very old, older than any man could ever imagine, and had existed long enough to garner a large collection of tales to be told.
Gabriel was no idiot, but he somehow found himself strangely trusting of these dark men. It was at their grand tale that Gabriel found himself at a crossroads. He realized that he was fighting in this war to die, was he not? Remission of all sins was offered to those who died on this journey, not to everyone who simply went on the journey. Gabriel was sure of one thing: he didn't want to die. However, he didn't want to go to Hell when he inevitably
did
die later on. Could it be possible that he'd found some sort of loophole? Could he cheat death, and therefore cheat God, escaping his fate in Hell?
While the rest of the city slept, Gabriel returned to the merchants, questioning them further on their backgrounds. They described the process of becoming the living-dead. Gabriel had come to fear death. He didn't want to go to Hell, and even if the Pope was true with his promise of Heaven, Gabriel wasn't ready to die. His devotion to God had been little more than a lie, it seemed, only so persistent in the hope of finding forgiveness in the afterlife. And Gabriel was tired of war; he had seen and done things that he was sure no God could forgive anyway. This could be his way out, and so he told the merchants that he wanted to join them.
While before the merchants had always requested something in exchange for their services, they now seemed willing to oblige Gabriel on his offer. One of traders, Baas, who was clearly the older and more superior of the two, said that he would grant Gabriel the gift of undeath if he could prove that he was worthy of continuing on his people's traditions. If Gabriel wanted this, he would have to abandon his mission on that very night and go with them. He hesitantly agreed.
That night, Gabriel grabbed what supplies he could from the camp and headed off with the two Ramanga vampires. While they began to move along, heading North, Gabriel learned that the two vampires were nomads and had originated from Eastern Africa. He also learned that Baas was the older of the two and, Jelani, the younger, was a fledgling of Baas's. The two had been traveling together for nearly a year now while Baas prepared Jelani to go out on his own.
As the group headed North, Gabriel found himself in a very rough position. It was hard to keep up with things, as Baas and Jelani preferred to speak in their native tongue, and he was taking in new information every night as Baas prepared him to become a Ramanga vampire. Over time he was taught how to make mixtures and potions just like the ones he'd been sold back at the Crusader camp, as well as how to become one with nature and the basic rules to Ramanga life. Along with this, Gabriel was finding himself to be the errand-runner and occasional food source for his undead companions.
Over the next year, Gabriel learned a good deal and eventually Jelani ended up parting ways with him and Baas. Baas had finally decided that Gabriel was ready to become a vampire and so he sired him on July 2, 1099 in Southern Russia. Gabriel stayed with Baas for about another year, preparing further, as Jelani had, to uphold Ramanga traditions and make his own way in undeath, as well as learn more of the mysterious magical world.
After leaving Baas, Gabriel had traveled almost constantly, whether it be short or long distances, seeing as a Ramanga vampire is unable to stay in a single place more than once. He's had many adventures over the years, some more eventful than others, but all along Gabriel has always done a good job of doing what Baas set him out to do, though never seemed as committed as his sire. The young vampire sort of preferred doing things his own way and flourished once he was on his own. He remains forever nomadic, slowly slipping from human emotion and realizing more and more his doubts of his own way of life, just as he had with his faith centuries ago.