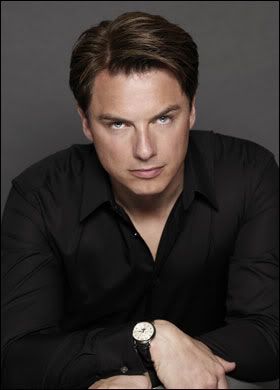 Play-by: John Barrowman
BASIC STATISTICS
Full Name:
Liam Shea
Current Age:
37
Date of Birth:
October 17th, 1958
Place of Birth
: Belfast, Northern Ireland
Place of Residence:
London, England
Blood Line:
Both are Magical
Heritage:
English
Financial Status:
Middle Class
Education/Profession:
Daily Prophet Correspondent
Rank/Position:
Senior Quidditch Correspondent
Pet(s):
A brown owl named Charlie
Wand:
Eleven and a half inches, Unicorn hair core, Blackthorn
Patronus:
n/a
Additional Abilities:
n/a
PHYSICAL APPEARANCE
Liam stands about six feet tall, weighing in at about 170 pounds. He doesn't look too heavy nor too skinny. He simply looks right for his height and weight. He has brillent blue eyes, which he inherited from his mother. He also has dark hair, which came from his father. During the spring and summer months, his hair turned to a light brown/dark dirty blond in color. And in the fall and winter months, his hair becomes brown, with small spots of light brown. He often is found wearing dress clothing. He always seemed to dress properly, even when not at work.
PERSONALITY, TRAITS & QUIRKS
He often looks quite serious and intimidating, but he is actually quite friendly. He is quite the sports fan, having found an interest in the muggle sport of football. But his true love has always been Quidditch. He had played for his house team back at Hogwarts for four years, but a bludger to the head left him unable to play. He gets frustrated easily, which causes him to have more headaches then his would otherwise. He doesn't enjoy food or flowers or candles because he lacks the ability to taste and smell. He often forget that people like those things and sometimes forgets what's so wonderful about them. His sentences during speech sometimes get jumbled up, but he never notices when he does this. He also sometimes seems blissfully unaware if he is reading a magazine upside or reading things backwards for he can always understand whatever he's reading. He can be quite eccentric at times, but for the most part he's a normal guy.
HISTORY & PAST
Liam Shea was the only child born to Shane and Molly Shea. Shane was always an interesting guy, whom Liam saw very little of. He was always busy, but it wasn't like Liam cared. He had his mother and she was ready to give him her full attention. Molly had a tendency to sheild Liam from the horrors of the world.
He was raised learning both of the magical world and of the muggle world, as Molly's sister was a squib, but her husband was a wizard (A very strange one at that). Liam loved spending his summers and breaks with his aunt, playing with her children. They didn't understand the magical world, but grew to enjoy everything the other world had to offer just as Liam enjoyed everything the muggle world had to offer.
Liam was always getting into everything, but could always get himself out of trouble. He had a good sense of what was right and wrong. Perhaps this was what caused him, at the age of seven, to cause the word "Liar" to appear on his cousin Shannon's forehead when the boy denied pushing Liam off a swingset so she could swing.
It was no surprise when he got his letter to Hogwarts, but he was surprised when his cousin was joining him. They were the same age, she was also born on the same day. She also had an elder sister, Becky, who was already a sixth year and an older brother, Jona, who was a third year. Shannon, whom he called his twin, was sorted into Gryffindor with him. Liam always went to Becky for tutoring, since she was a Ravenclaw Prefect. Jona, who played for the Hufflepuff house Quidditch Team as Seeker, was the one who, in Liam's second year, convinced the boy to try out for his house team.
In his third year, Liam made it on the Gryffindor House Team. He played Keeper. He played for the team from then on. In his fifth year, he became a Prefect for his house along with Shannon. In the spring of his sixth year, the worst thing happened to the boy, who had hoped to go on and play Quidditch Professionally. In a game against Slytherin, the beater smashed a bludger into Liam's head at point blank so they could score a goal. The blow actually shattered part of the boy's skull and sent him in a coma for months. He awoke a couple days before final exams. However, the teachers excused him from exams, all expecting papers to be written over the summer on different topics in order to pass him for the class. Passing was no problem, as he was able to get help.
It was quickly noticed that the sixth year had lost his depth perception, his ability to taste, and his ability to smell. Within a month, it was also noticed that he suffered from chronic headaches. When he realized that he got horrible sick when he got on a broom, and couldn't even defend against a Quaffle getting past him, Liam resigned from his position as Keeper at the beginning of his seventh year. He began to look at other job oppertunities. While reading the Daily Prophet, it hit him. He would become a reporter on Quidditch. If he couldn't play the sport, he could keep up with it.
In 1976, Liam learned just what his father had been up to. His parents were both killed by Death Eaters before he was able to leave school. Perhaps it was being at school which saved his life. So when he left school, he moved in with his cousins.
Right after graduation, he began working at the Daily Prophet. He first ran and helped aid reporters. He was extremely reliable, so at twenty he was given his first shot at being a reporter and did an amazing job. They began to give him more assignments, letting him go work with the Senior Quidditch Correspondent. It was something that Liam loved, getting to write articles and help gather info for Quidditch articles.
1980 was a year that changed Liam's life forever. After living with his cousins so long, he began to realize that there was something wrong with his uncle. He was scared all the time, nervous, and skittish. While Liam was away interviewing a foreign Quidditch team, his cousins became another family killed by the Death Eaters. It became unraveled that his father and uncle had been Death Eaters themselves and wanted out.
When he returned back to Ireland, he learned he didn't really have any family left. But it wasn't true. Shannon had recently had a child, who had yet to even leave the hospital. Liam adopted him as his own son, whom he named Keane.
Liam worked for ten years with the Senior Quidditch Correspondent before he replaced him when his senior retired. He was quite frustrated when at seven, Keane was throwing fits left and right over not being able to play Quidditch, often resulted in objects turning into bludgers. But within time, Liam gave up and let his son learn to play Quidditch, intstead of simply just letting him ride a broom. He became ecstatic when Keane was accepted to Hogwarts, often sending him all the latest news about the Quidditch world via owl before anyone else finds out.
OTHER INFO
FAVORITES
Book:
"Quidditch Through The Ages" by Kennilworthy Whisp
City:
London, England
Subject:
Muggle Studies
Color(s):
Blue
Historic Figure:
Dumbledore
Interests/Hobbies: Quidditch, cooking, cleaning, traveling, reading, music, and writing.