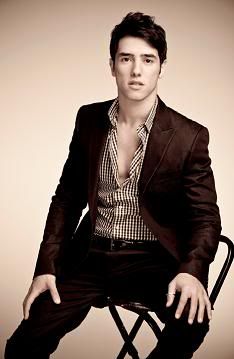 Play-by: Harel Skaat
BASIC STATISTICS
Full Name:
Lavi Elijah Ashkenazi
Known As:
Lavi Ashkenazi
Nicknames:
Lav
Current Age:
16
Date of Birth:
May 21st, 1980
Place of Birth
: Tel Aviv, Israel
Place of Residence:
Tel Aviv, Israel
Blood Line:
Pureblood
Heritage:
Jewish
Financial Status:
Middle Class
Education/Profession:
Student at Blessed Isis Temple of Spells
Rank/Position:
6th year student,
House of the Sea
,
House of the Sun
Other:
Keeper of the Oasis
Pet(s):
An Egyptian Mau named
Liron
Wand:
11 and a quarter inches long with powered dragon scale core and is made of acacia.
Patronus:
n/a
Additional Abilities:
none
PHYSICAL APPEARANCE
Lavi stands about five feet and five inches tall. He doesn't think his height makes him any less threatening. He believes he's of average height and that's all that matters. He has dark brown hair that's usually kept on the short side. His eyes are milk chocolate brown. He tends to wear whatever he feels like. At school, he's always in his robes unless they're able to wear their regular clothing. He usually has an unamused look on his face. He has a scar right above his right eyebrow that actually extends into his eyebrow a little.
PERSONALITY, TRAITS & QUIRKS
Lavi is the boy that tends to get noticed because he seems to know everything, including random facts. However, he doesn't look like your normal braniac. He just acts it and has the grades to prove it. He tends to keep to himself, having trouble connecting to people. He tends to be amused by the simple things. If it wasn't for his attitude, Lavi would easily be a background character. However, he has no problem with the fact he's the teacher pet and takes it upon himself to enforce rules. He finds it easier to connect to books and spends more time studying than interacting with his classmates. He is extremely protective of his little sister Zelda and refuses to let people mess with her. It's one of the few things that causes Lavi to show he's not as unfeeling as you may think.
Secretly, Lavi is childish and tends to be a little stubborn. He can hold childish grudges over dumb things, but won't show that he's upset or annoyed over something. He will deny being upset till the cows come home, especially if he's embarrassed. When he is embarrassed, his ears tend to go red before his face does. The thing that stands out about his personality is that he doesn't believe in love. He believes it's false and has no problem stating his opinion. However, part of him still wants to believe that not all love is a lie.
HISTORY & PAST
Talya met Ephraim at Blessed Isis. They were friends throughout their years, both in the same house. They shared the same heritage of being from Israel, which brought them together as friends. It wasn't until they were in their early twenties that they gave a relationship a try. Talya had always had a crush on Ephraim, who tended to have eyes on anyone but her. She was quite happy when he asked her out, not realizing that Ephraim was trying to simply please his religious parents who wouldn't accept most of the girls he dated. Within a couple weeks, both noticed their relationship wasn't working out. Talya decided she would rather do the drastic than lose the person she loved. Amortentia became the poison that built the foundation of the Ashkenazi family.
Lavi was born with his father under the influence of the strong love potion. Growing up, Talya and Ephraim raised Lavi as normally as possible. Talya was too busy keeping Ephraim under her control to care about trying to keep her son close to her side. So his curiosity tended to land him into trouble or getting hurt.
When Lavi was two, a family friend convinced Talya to stop harming Ephraim with the love potion. He feared that it could heavily harm Ephraim, even kill him, as strong love potions weren't fully studied in Israel so no one really knew the full side effects of prolonged exposure to them. Lavi's earliest memory he can recall is of his mother crying when she gave his father an antidote for the love potion. Ephraim didn't stick around when he was released, unsure of how to act or how to even live in the house.
Lavi grew up traveling between his home with his mother and his home with his father. After two years, his father remarried and had a baby. Alona adored Lavi but the boy thought she was nice and that was it. He was so used to his crazy home life with his mother that he tended to try to not pay too much attention to emotions. He was more interested in his half baby sister, Zelda. But with his father's new marriage, Lavi began to try to figure out why his parents didn't love each other? Whenever he asked his mother, she would always claim that there was no such thing as love. She was always bitter and never seemed to smile.
When he was eight, Ephraim was beginning to notice that Lavi was becoming more detached from those around him and began to talk with Talya. He began to notice more and more how unstable she was and had her placed in a hospital to get better. Ephraim took Lavi in and raised him. He hadn't any clue whether his son was magical or not, but wasn't about to just let him go away to live with his grandparents. Besides, Alona adored Lavi and already treated him like he was her own. Since she had first met Lavi, she kept pressing for Ephraim to just bring him to live with them because she didn't like Talya and always suspected something was wrong with her, why else would she have held Ephraim under a love potion for so long? It took six years before Ephraim came to accept that there really was something wrong with Talya.
Alona gave Lavi the answers he needed when he was ten when it came to his parents, inner resentment towards his mother growing little by little every time he tried to recall his parents together. However, he couldn't and it annoyed him. Alona treated Lavi like Lavi had always wished his mother would, with kindness and not bitterness. However, he couldn't keep his mind from trying to tell him this was all false. He believed that Alona treated him kindly because it was her duty. Never once has it crossed his mind that it was possible she cared about him.
When Ephraim learned his son was accepted into Blessed Isis, he was shocked yet happy for Lavi. Lavi was excited for school, being raised in magical households caused his love for magic to fill a void he was lacking. And Blessed Isis didn't let him down. He adored the place, even if he wasn't really good at making friends. Honestly, he just didn't have the social skills to properly communicate and make friends. Instead, he spent most of his time in the library studying.
His third year was exciting because he was picked to be a member of the Keepers of the Oasis. He was holding some of the highest marks, so easily knew what type of club he was drawn into. He actually enjoyed it for it gave him a chance to talk to people, some of whom weren't driven away by Lavi's awkward personality. It was the first year since he arrived that he actually had friends. There weren't many but it was more than none. And with the start of his fifth year, his little sister was starting her first year. He vowed that he wouldn't let any bully her.
OTHER INFO
FAVORITES
Food:
Latkes
Ice Cream Flavor:
Chocolate
Dessert:
Cake
Drink:
Coffee
Book:
"Quidditch Through The Ages" by Kennilworthy Whisp
City:
Tel Aviv, Israel
Subject:
Transfiguration
Color(s):
Blue
Interests/Hobbies: Reading, relaxing, playing with Liron, hanging out with his sister, homework.