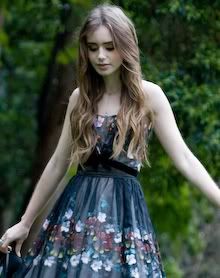 Play-by: Lily Collins
BASIC STATISTICS
Full Name:

Lorelai Yvaine Arundael


Known As

: Lorelai, or Aine to her family.


Nicknames

: Lor, Lori, Aine



Current Age:

17


Date of Birth:

8th of June 1978


Place of Birth:

St. Mungo's Hospital


Place of Residence:

Waddlestone Village



Race:

Witch


Blood Line:

Half-Blood


Heritage:

English and Welsh


Financial Status:

Average



Education/Profession:

Pro Quidditch


Rank/Position

: Beater for the Holyhead Harpies



Pet(s):

None


Wand:




Patronus

: Dog


Additional Abilities

: Apparition License
PHYSICAL APPEARANCE
Lorelai Yvaine is an average looking sixteen year old girl. She's on the tall side, standing at 5'5", with a skinny figure. Her skin is fair, but tans fairly quickly when she spends a lot of time out in the sun. Like every teenager, her face is often tainted with the occasional pimple, which she hates but unfortunately has to live with. Lorelai's hair is thick, dark brown and slightly wavy. Kept it's natural colour, because Lorelai doesn't believe in fake. She'll either tie it back in a ponytail or leave it loose. Her eyes are a light shade of blue, sometimes appearing grey or pale green depending on the light.

She isn't a great follower of the latest fashions, usually sticking to what is comfortable, like jeans and tops when she isn't in her school uniform. At times she does make an effort to make herself look good, because Lorelai doesn't consider herself a beauty. She doesn't really care for jewellery, except for a few friendship bracelets that she made herself, and simple little necklaces.
PERSONALITY, TRAITS & QUIRKS
Lorelai is an extravert, a people person if there ever was one. The one thing she hates is being alone, she doesn't even like running back to the dorm to fetch a book alone, she always makes a friend go with her. Friendship is an important thing to Aine, she cares greatly about her friends, she's very protective over them. She is selfless, if a friend is in danger Lorelai is quite happy to risk her own life for someone she loves. Quite the chatterbox, Aine doesn't really know when to shut up at times, which can cause her trouble in lessons with strict teachers. But she always tries to appear sweet and innocent, so that nobody will harm her, even though she is definitely not. Lorelai has an adventurous streak, doing things that aren't allowed is a thrill, she loves it. Always making sure she won't get caught, Aine is a very sneaky girl, always has an excuse ready and is not that bad at lying.

She's very brave, and while she will try and get out of something she doesn't like doing due to her laziness, she has a strong sense of pride and will never back out of something she has to do. Aine believes that fear is relative, when faced with her fears she simply counts to three and does it anyway. Often, she will do something nobody else dares to do, just to show off. "Look, it's not that hard, I'll do it," is a phrase often heard from Lorelai's mouth. She can be a little reckless, especially when angered or playing Quidditch. Though she is also careful and tactful, usually she thinks before she speaks, and she takes time to plan before she does something stupid. Not that doing stupid things is bad in her opinion, you just need to plan it carefully.

Aine is definitely intelligent, but she doesn't use it. She can't be bothered to study and try hard in every subject, especially the ones she doesn't like. Therefore, her results are mediocre, letting the maybe less intelligent students but hard workers get all the high marks. Studying really isn't her thing, she believes that one should have fun in life, and that you never have to do things you don't want to do. Quidditch, and socializing with friends are more important to Lorelai than her marks during the year, it's the week before the exams that she will stress, panic, and start studying. Not the ideal study method, but it works for her and she can't help it.

Lorelai is a very sensitive and emotional girl. She shows emotions easily, and is sensitive to everything. She has a vivid imagination and is very good at empathy, it's not difficult for her to imagine what other people might be going through. Being very good with people, she has a kind nature, and doesn't purposefully harm someone without a good reason, off the Quidditch pitch of course. She has always had a quick, hot temper, and while she can get annoyed, yell, even resort to using her wand, Aine is a very forgiving girl with the people she loves. With her enemies, it'll be pretty hard to ever make amends with Lorelai. She is very independent, and usually doesn't rely much on other people. Aine also tries to balance out being serious and being bubbly and hyper, most of this relies on her mood. Her emotions regulate everything she does, she will always let herself get carried away by her heart.
HISTORY & PAST
The romance between the Englishman Henry Arundael, and the two years younger Welsh woman Eirlys had reached a new point, a point where they both agreed on the fact that they wanted a family. Eirlys was a tutor and Henry a ministry worker, but they wanted more from life than just their careers. The young couple and one child, in their apartment in London. It was all planned. What wasn't planned, and came as a mild shock to the family, was that Eirlys was pregnant with not one, but three children. They were still happy about it, but a practical problem occurred. The home in London was simply too small to bring up three children in, and Voldemort was at the height of his power at that time. Luckily, the family managed to escape and live in a little cottage in Waddlestone village, belonging to a family friend of theirs. Staying there until the fall of Voldemort, they managed to buy the house afterwards and resided there ever since.

Lorelai Yvaine Arundael, given the pet name 'Aine' by her family, was born as the oldest of the three on the 8th of June 1978. There were only 11 minutes between her and Cristopher, and 19 minutes between her and Yvette. All three children had been named after characters in old Celtic magical tales. Their full names were Lorelai Yvaine, Cristopher Rhys and Yvette Adriana. Lorelai, compared to her other two siblings, was the quietest baby, however she could have many loud and ferocious tantrum moments when in the right mood. All three of them together proved to be very high maintenance children, as babies.

The triplets grew up in a loving family, their parents loved them a lot and wanted the best for their children. Lorelai spent a great deal of her childhood playing with her siblings, after all it wasn't usual for a young child to have two other playmates her age. Maybe it was because she was the oldest, or because it was simply in her personality, Lorelai seemed to be the leader figure when it came to her siblings. She liked to take charge, and with her vivid imagination she would come up with a thousand different games for them all to play. Because of this fun-filled childhood, the triplets became closer, and formed such bonds that were impossible to break. Lorelai didn't show much open affection towards them, often throwing random objects at them or hitting them if she was annoyed, but in reality the three of them were extremely close.

Lorelai was somewhat the more responsible one of the three, not getting into as much mischief as Cris and Adi. But that didn't mean she never did anything wrong, she was sneaky and concocted plans for the three of them to sneak out and enjoy themselves, or basically do anything that was exciting but not allowed. If they got caught, however, depending on what would happen, she would either blame someone else in minor cases, knowing that they would be more easily suspected than herself, or she would stand up proudly and take the blame. Lorelai didn't cause her parents as many grey hairs and frustrations as the other two did, but she was known for her infamous temper tantrums, where she would scream, yell and cry for hours on end.

The Arundael triplets, despite causing their parents a lot of work, also caused them a lot of opportunities for laughter. As toddlers, they could barely pronounce each others names, and as they were very loud children, the names that were screamed across the room sounded more like 'Lolai', 'Ybet', and 'Kisstober'. They were all very intelligent kids, even though it hardly showed when it came to grades and studying. Lorelai loved to read, but only for her own pleasure. When it came to learning, she proved to be very lazy and wanted to avoid the study sessions with their mother Eirlys at all costs. But there was no doubting Lorelai's intelligence, she was often the more intelligent one among the three of them. But all three of them were lazy, and always tried to get out of unpleasant things.

Lorelai was the first one to show her magical abilities, even though they all showed them at quite a young age. She was six, and trying her very best to read a book, having only just learned to read. Cris and Adi were having one of their infamous squabbles, distracting little Aine. Who would have known that her demand 'Guys, shut up!' would cause Cris and Adi's tongues to fall off, landing them in St. Mungo's. Lorelai was really shocked by this ability, even though magic wasn't uncommon in their household, she hadn't expected a hospital visit because of it. Cris and Adi's tongues were fine, and Aine gave them both a hug to make up for it. They all had original ways of portraying their magic, as Yvette managed to make a large book chase Cris around, and Cris having found a magazine in his parents room, managed to make a picture of a woman in 'The Restricted Section' come to life, much to his parents shock.

Nobody was that surprised when three acceptance letters to Hogwarts arrived on their eleventh birthday. That September, the Arundael triplets boarded the Hogwarts Express, ready for a new episode in their lives. Hogwarts was a fantastic experience for Lorelai, and she had much diversity in her school grades. Being excellent in the things she liked and was good at, like Transfiguration, but the things she hated like Divination and Potions were a disaster, and she didn't even pass. She only had an interest in the things she was good at, and despite her being intelligent, Lorelai was often too lazy to do her homework assignments, resulting in angry Professors and a lower grade. She enjoyed the school environment, she made friends, she had adventures, she learnt how to play Quidditch and loved the sport dearly. Lorelai Yvaine Arundael is enjoying life and school to it's fullest.
FAMILY NETWORK
Father:

Henry Arundael - English, muggleborn, Ministry worker


Mother

: Eirlys Arundael - Welsh, half-blood, Tutor


Sibling:

Cristopher Rhys Arundael - 17, Hogwartian, Gryffindor


Sibling:

Yvette Adriana Arundael - 17, Hogwartian, Hufflepuff