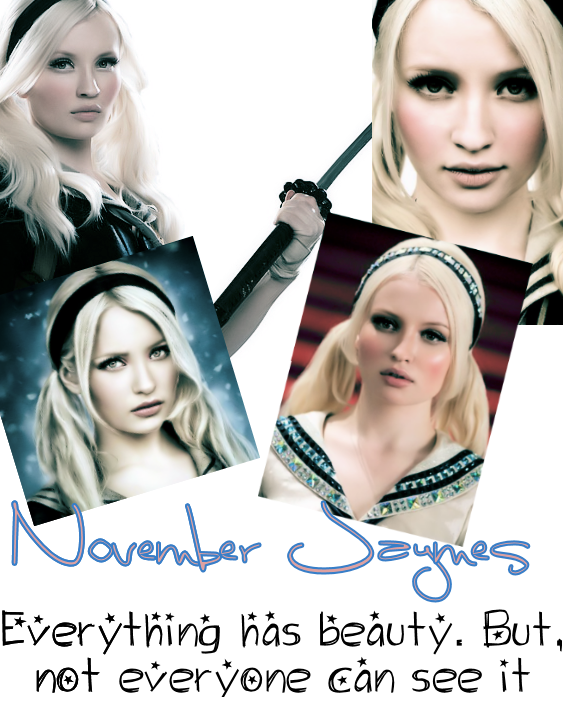 Full Name:
November Jaymes
Age:
19
Relative Ability Was Inherited From:
Mother
Magical Status:
Witch
Profession:
Intern at The Walker Garage
Country of Citizenship:
United Kingdom

November has long silvery blonde hair, big brown eyes and a pale, milky skin tone. She stands at about five foot five, and has a slim, petite figure. November tends to speak in a soft tone, all the time. She mostly wears small skirts, black knee high socks, boots and checker shirts. When November is feeling in a casual mood, she'll just wear jeans and her checker shirts. Usually she wears headbands, and occasionally will colour her hair brown. She has her ears pierced once, and has a few scars all over her body from clumsy accidents she got into as a child, and still even now sometimes.

Mother's Magical Status:
Witch/Full Veela
Father's Magical Status:
Wizard
Strongest Ability:
Defence Spells
Weakest Ability:
Brewing Potions
Wand:
14'' Coconut Unicorn Hair

November is a slow learner, and can be a bit dim at times. Most people might find November's slowness and dim moments to be annoying, but those who know her well, or just like her anyway tend to find her slowness as an adorable trait. She defiantly gets her looks from her mother (obviously as they're both veelas) and her brains from her father, he really isn't the brightest bulb in the pack.
November is a bit of a tomboy, she's more into playing video games, football, watching wrestling and other sports than having a girlie night of doing her hair and nails etcetera. November is an over all nice person, but she does tend to have a bit of a short temper. She takes a job or any kind of work she's doing seriously and tries to focus on it as best as she can, and she's incredibly polite.
Where a lot of other veelas seem to be full of themselves and have been known to hang around high society types, that's November's mum in a nutshell, but that's not November at all. She's different to most of her kind as she tends to hang with lower class people, putting her poor mother to shame. November really isn't a typical veela, at all.
Strengths:
Hard Working. Focused. Polite.
Weaknesses:
Short Temper. Slow Learner. Can't Take Criticism.
School Attended:
Hogwarts - Hufflepuff
Graduation Year:
1995
Ability Manifestations:
November discovered she's a Half-Veela around the time she turned sixteen. During an argument with a friend, she got so worked up her hair and skin turned to a bird-like feathery appearance, her nose went pointy and her shouts went more high pitched. November has only been a Half-Veela for about three years, and being a slow learner she's still trying to get the hang of her abilities. She's that behind in her Veela abilities it's as if she only found out last week that she's Half-Veela, not three years ago.
November was born in London, to Durant and Lacie Jaymes. Her parents originally come from Lyon, France. But with her mother getting a promotion in her job the parents moved to the United Kingdom, and a year later November was born. All through November's childhood her mother always went on about being a Veela and how she was expecting November to be like her, it would be her proudest day, blah, blah, blah. It meant nothing to November, she was always enjoying playing and messing around with her friends to ever think about something she wouldn't become for another few years.
November has always been more close with her father than her mother. Her father has a bit of a fascination with muggle things, not muggles as in themselves, just their stuff. Durant works in a store in muggle London that sells weapons and artefacts for muggles. Also in his spare time he teaches sword fighting where November takes the classes also for fun. November has one sister, who she's rather close with also. The sister is defiantly more the mother's child, where November is more the father's child. The sister is rather girly, very much into fashion like mother, and is quite advanced in her learning and Veela state. She defiantly makes November look like an old pumpkin.
When November received her letter telling her she'd be going to Hogwarts, that was the happiest time of her life so far. When she got sorted into Hufflepuff, she found that a perfect fit! She didn't see herself being a Slytherin, from what she knew of that house they were rather narrow minded and cruel, she was far from that. Gryffindor, where the brave went, she wasn't a coward but she wasn't brave enough to earn those house colors. Then there was Ravenclaw, a more suitable choice, but given how slow November is, it was highly unlikely she'd end up in that house, which left Hufflepuff. That was defiantly November's house, and sure enough that's what she was sorted into.
When November reached her fourteenth birthday but nothing was different, she was still just a normal witch, it was no big deal to her. Her mother on the other hand was so upset. In the end with all the letters November's mother kept sending to her in school, asking her if she's sure she's not a Veela, November just started to ignore the letters and continued on with school, happily and not bothered. Now sixteen, and clearly a late bloomer, November had gotten into a verbal fight with a friend. It had got so bad that November had fully lost her temper and became a humanoid bird form during the fighting... It seemed mother was going to be incredibly happy to learn her daughter is a Veela after all, she was just late in inheriting the abilities.
When November graduated from Hogwarts she went on to collage to get some experience under her belt so she could work in a garage. She stayed in collage for about a year, before applying at The Walker Garage in London to be taken on as an intern. She's been there now for a mere couple of months, and though she's a slow learner she's focusing as hard as she can. November loves cars, Muggle cars more than wizard, enchanted cars. She doesn't know what it is, but there's just something more appealing about the muggle cars, and knowing how they run, being able to fix them up, it just seemed really appealing to November. Which was why she wanted to take a mechanics career, and not follow in her mother's career choice in fashion.